Hello again, I just got back from my bus trip and it was very successful. I really enjoyed riding my bike downtown and catching only one bus to my appointment, so I think that is going to be my technique from now on. I thought about taking my bike on the bus, as I
mentioned earlier
, but am glad I didn't because there are only two spots for bikes and they were mighty crowded on the way back. I also wanted to show you what the rack looks like but felt uncomfortable taking pictures of buses...so I swiped this from the RTS website instead!
Bicycle Procedure
You can take your bicycle with you anywhere RTS goes! Most RTS buses have bike racks on the front that hold up to two bicycles. If you wish to use the bike rack, signal the driver that you are going to the front of the bus. You will be responsible for loading and unloading your bicycle.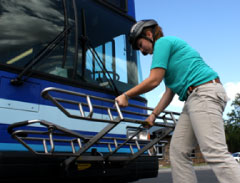 1. Pull up on the release and lower rack.
2. Place bike wheels into the slots labeled "front" and "rear." Pull out bike support and lift it over the front wheel. The spring in the arm will keep your bike secure while the bus is moving.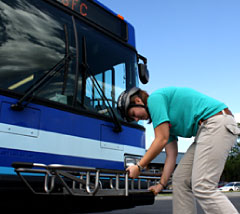 3. To unload, release support arm and lift bike from the rack. Return rack to the upright position.

I ended up somehow getting an earlier bus downtown so I was able to stop at Fresh Market for some by-the-pound salad before hopping back on the next bus and getting to my destination. This bus, because it carries a lot of students, is probably one of the more frequent buses on the whole schedule so it was definitely nice; I missed my bus coming back but only waited 30 minutes for the next on, versus the hour, hour and a half with other buses on my route.

On the way home I stopped at Publix and got a couple of things (bogo Ben and Jerry's for one thing) and now I'm home.